By ToroDev Staff Writer |
Radio has proved to be a key tool in promoting public accountability and improved service delivery in the Rwenzori region of western Uganda. Toro Development Network (ToroDev), a non-governmental organisation that trains marginalised communities on service delivery monitoring and participation in governance processes, has reached wide audiences by supplementing their radio activities with additional Information and Communication Technologies (ICT) tools and traditional offline engagements.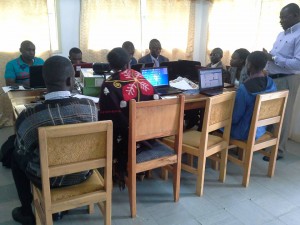 ToroDev is working in partnership with two popular regional radios stations, Hits FM and Better FM, on public accountability radio talk shows focusing on topics such as corruption, politics, poor public infrastructure and health services delivery. ToroDev has enabled wider participation in the radio discussions through the installation of the online polling application Trac.FM at partner radio stations which is supported by pre-paid SMS enabling citizens to share their opinions. Journalist Forums, social media platforms and live call ins further facilitate the debates.
The convergence of these ICT tools has spurred audience participation from 304 monthly responses from citizens in early 2014  to 4,835 responses per month by November 2014, based on aggregated social media responses, radio station SMS and call in figures as well as Trac.FM statistics.
In December 2014, the Orukurato radio talk show on Hits FM discussed the issue of electricity load shedding in the region.  According to the show's host William Kasigazi, over 5,000 responses through call ins on, Trac.FM and social media were received on the topic, of which 85% of respondents were affected by lack of electricity for a few hours at least once every day.
This unusual influx of responses during the December 2014 load shedding debate led to the regional Director of Umeme (the national electricity supplier) to request for a slot on the show to educate citizens on the cause of the power cuts.
Meanwhile, in order to promote more rural debate and participation (where access and cost of ICT remains a limiting factor), ToroDev also conducts monthly physical accountability meetings as opportunities for communities to directly engage with local duty bearers. The number of citizens participating in these meetings rose from 60 individuals per meeting in December 2013 to an average of 200 per meeting by August 2014. An increase in women participation in these meetings was also registered, from five in 2013 to 50 in December 2014. Half of the participants at each meeting were youths.
Instrumental to the success of the project has also been the use of 15 advocacy forums which were initiated to encourage rural service delivery monitoring and monthly governance deliberations.
Andrew Twesige of the Bufunjo Peoples Forum noted that its lobbying work for improved service delivery at the Bufunjo Health Centre III was a success. Through online and offline community engagements and increased awareness on the state of service delivery at the health centre by the Forum, the issue of low staff levels at the Centre reached the attention of local duty bearers and six additional nurses were recruited for the health centre.
Such outcomes are helping more citizens in communities where ToroDev works to embrace the use of ICT tools in public services monitoring.
"Before the radio talk shows were introduced, leaders were very hard to reach and we used to fear them, beg them, they were taken as special people. But radio talk shows, TracFM and accountability meetings have helped citizens to work hand in hand with both political and technical leaders," said Jane Ahimbisibwe who heads the Butiti Peoples Forum in Kyenjojo district. She added that through these tools citizens are shedding the fear previously held for duty bearers noting, "we are brave enough to approach any leader because we have been given a good platform."
Indeed, the increasing popularity of the talk shows, the use of polls on on Trac.FM and the accountability meetings have attracted national and local duty bearers to more willingly engage with citizens on the platforms availed through ToroDev. During 2014, a total of 60 leaders at sub-county and parliamentary level participated in the monthly accountability meetings, and jointly with the advocacy forums drew up action plans for priority public service issues. A notable participant in such engagements was the State Minister for Finance (Uganda), Aston Kajara.
ToroDev's work is part of the ICT4Democracy in East Africa Network, a regional coalition of civil society organisations coordinated by the Collaboration on International ICT Policy for East and Southern Africa (CIPESA). The network is supported by the Swedish International Development Cooperation Agency (Sida).